It's Daddy's special day and I decided to bring my parents (and myself of course) for a treat at Jade...
Service is rather slow at Jade, so place your orders fast if you're hungry.
The Baked Barbeque Pork Pie was nicely done with flaky pastry and a filling that was slightly sweet.
On the other hand, I was slightly disappointed that the Steamed Custard Bun didn't have a flow-y center.
The Boiled Congee with Lobster and Dried Scallop was not impressive either as the congee was really bland.
Braised Bird Nest with Truffle Egg White
Each person is entitled to one serving of soup. All 3 of us decided to order the Braised Bird Nest with Truffle Egg White. I was expecting the soup to be sweet, but it was a savory soup instead.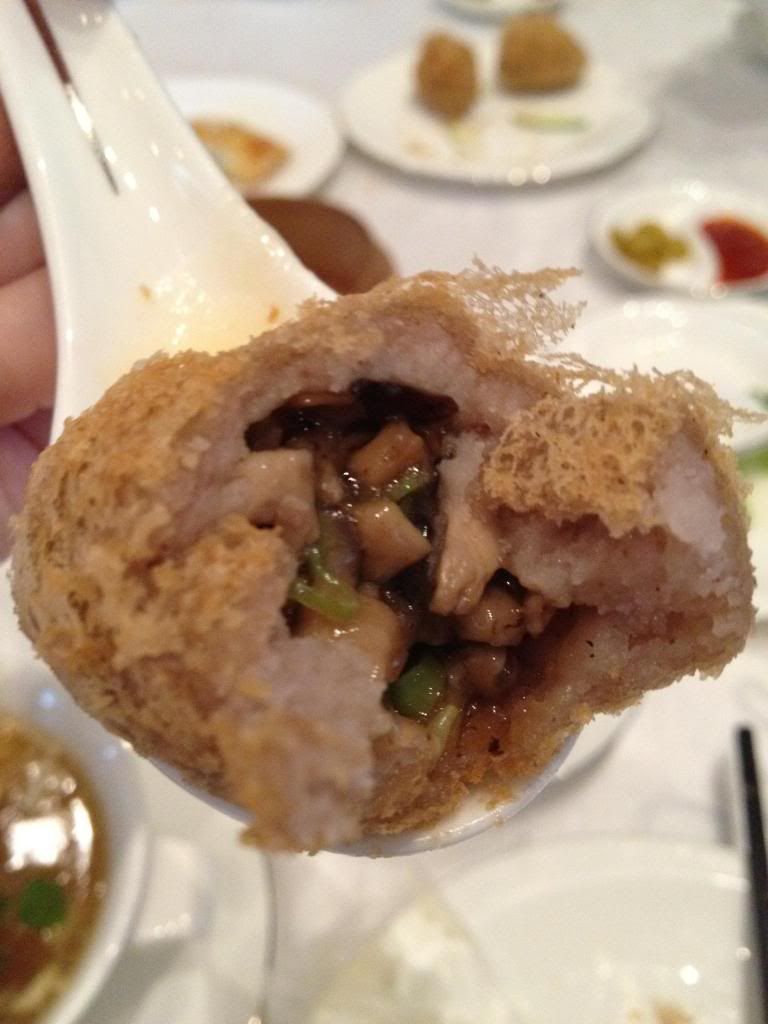 Deep-fried Taro Paste with Truffle and Mushroom
The Deep-fried Taro Paste with Truffle and Mushroom had a crunchy exterior that was well complemented with the earthy tones of truffle and and mushroom.
Clockwise from top: Roasted Pork Belly with Five Spice and Sea Salt, Crispy Honey Vinaigrette Sliced Sea Bass & Fried Egg Plant and Beancurd in Spiced Sauce.
The Roasted Pork Belly was well-marinated and the meat was soft and succulent. The skin could have been more crispy though.
I loved the Crispy Honey Vinaigrette Sea Bass! You can hear the crunch in your mouth as you chew on the sea bass. The sweet and very slightly sour taste of this dish is also nicely balanced.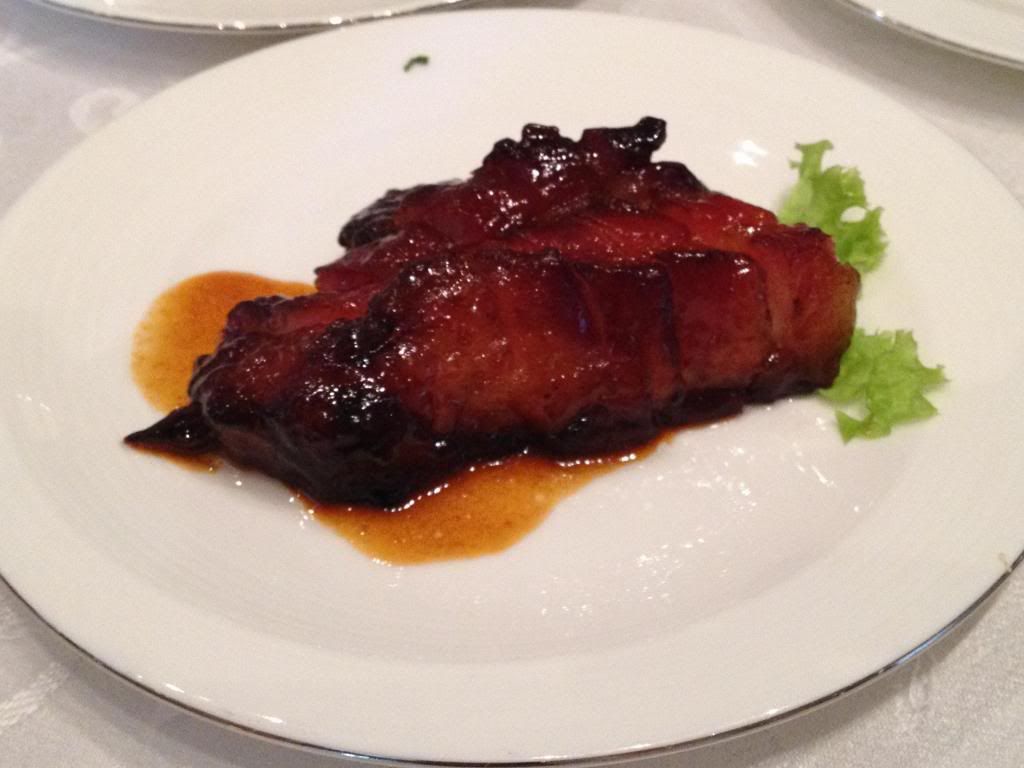 Honey Glaze Barbeque Pork
One of the dishes you MUST try is the Honey Glazed Barbeque Pork. The pork was well marbled with layers of fat and meat so it's really really tender. The honey glaze was well infused into the meat and the pork was slightly charred to add flavor and texture. It was so good that we ordered a 2nd helping of the dish!
Pan-fried Shrimp and Pork Beancurd Roll
Stewed Lamb Rack in Spiced Flavor
The smell of lamb was really strong in the Stewed Lamb. The spices used weren't enough to mask the reek.
Congee with Preserved Egg and Shredded Pork
The congee was smooth, but like the Lobster Congee, it was on the bland side. To add another minus point, the congee was cold when it was served.
Oven Baked Egg Tart
Clockwise from top left: Red bean soup (Hot dessert of the day), Pineapple pudding (Daily pudding), Mango with Pomelo (Cold dessert of the day)
The dim sum buffet is only on weekends. Do make reservations in advance if you are intending to go as it is very popular. The price for each pax is $36++.